Hi.  It's so nice to meet you.  I'm Tori Beveridge.  I live, with my husband and our dogs, cats and chickens, in the middle of nowhere, Illinois, surrounded by horse pastures, corn fields and forest.  We have between us, two daughters and a son, who are all grown and living in cities far from us.
As a girl I loved paper dolls and would draw my own dolls and design clothes for them, but I never considered myself an artist. My creative expression was always through writing, story telling and dance, and I didn't begin to dabble in art until after my son was born.
I am self taught, and being self taught has given me the freedom to experiment and play with art, enabling me to find my own unique style.  The magic and bliss of ordinary days is my motivation.  I believe in the power of positivity and seek to remember the good in a world where everyone is focused on the negative.
I am now a mixed media artist, working both digitally and traditionally, with a focus on magical realism and folk art.  Through my art, I hope people will experience inspiration, emotion, and the bliss of painting.  If I want to create something realistic, I pick up my camera.
"If it's too real it loses the magic."   Alex Powers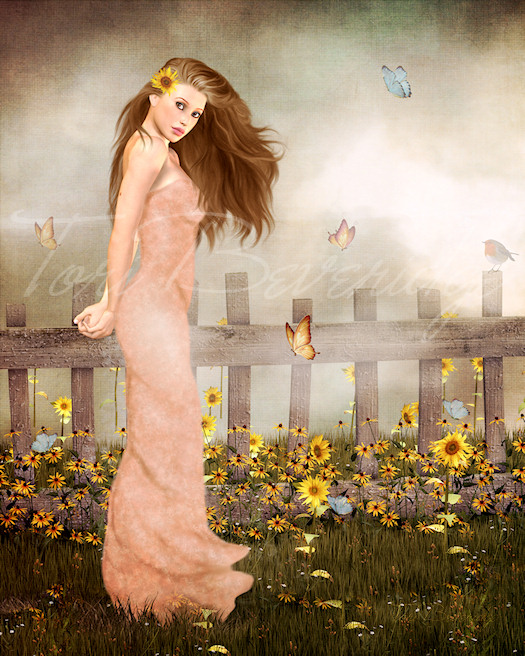 Sunflower Morning by Tori Beveridge 2013
"Every artist dips his brush in his own soul and paints his own nature into his pictures."  Henry Ward Beecher

Art is an experience.  Creating art is an experience.  Let's experience it together.
Cruzines
25551 E CR 2560 N,
Manito, IL 61546
BUSINESS HOURS:  Monday to Friday, between the hours of 8am to 4pm cst.  Phone calls and emails received after hours will be answered the next business day. The online store will be open 24 hours a day, 7 days a week.  Orders placed after business hours will be processed the next business day.  Orders for downloadable content are always available immediately for download after purchase.
CONTACT :
Telephone:  309-255-9332
or email:  tori at cruzines . com (without any spaces)