Here I go. I'm plunging into the 29 Faces Art Challenge.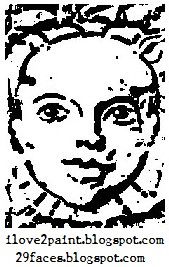 The Challenge? To create 29 faces in the month of February.
Seeing as I discovered this challenge Friday, that puts me a little behind. Since then I've been working away and I'm happy to share my first four faces with you.
Face 1
This is called Believe in You. It fits in nicely with Creative Everyday's February theme of Light.
I worked digitally using various painting techniques and elements, including this beautiful stock photograph.


18 by ~NastiaOsipovaStock on deviantART
I think this cropped version delivers more of an impact for the motivational sentiment.
"Believe in yourself! Have faith in your abilities! Without a humble but reasonable confidence in your own powers you cannot be successful or happy."
Norman Vincent Peale
This art will be available in my stores as prints, greeting and note cards, etc. this week.
'Girl with a Heart Shaped Face' was done in pencil, then inked and uploaded to the computer, as this week's Free Crudoodle Digital Stamp, which is available for download
HERE
.
Face 3
Meet my baby Otis. I love his face. Of course I know it's a face only a mother could love, but he is simply adorable to me.
The original photograph was nothing special and one which I would normally throw out, but it does capture a certain bulldog essence, which I thought I could bring out more with a little work in Photoshop. I'm quite happy with the result.
I did this painting in my art journal, using watercolors and watercolor pencils.
I call it Windswept. I don't know what I'm going to write yet, but I'm sure it will come in time.
Phew, four down. Only twenty five more to go. Yikes!