Hello my friends.  I am so excited to introduce you to today's artist, because she is one of my very favorite artists.  I discovered Cindy a few years ago on Deviant Art and over the years she has delighted, awed, and inspired me.
So without further ado, all the way from Sweden, please meet the sweet
Cindy Grundsten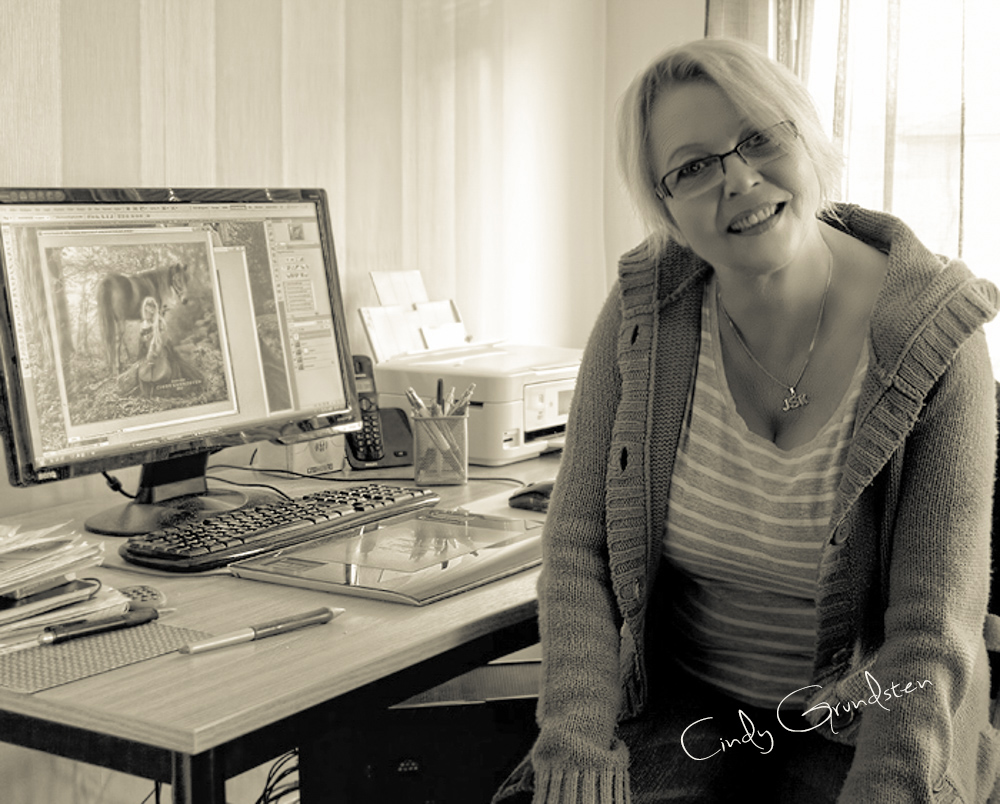 Who is Cindy Grundsten?  Tell us a little about yourself.
I am a fortunate woman who has received the gift of seeing and practicing art. I create images both in photo manipulation, and also through photography.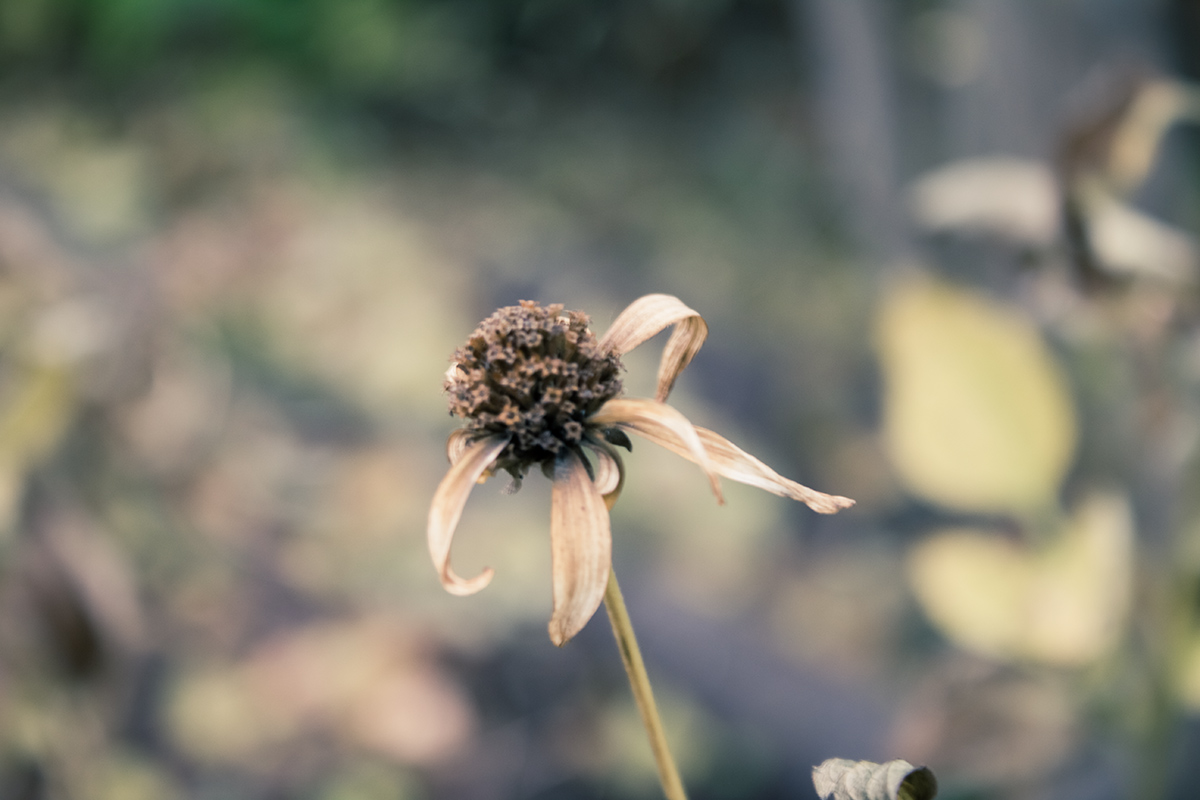 Flower, Photography by Cindy Grundsten
I love photographing nature. I think that nature is like a painting in itself. And I love to photograph small details of nature.
I have created photo manipulation since 2008. It's incredibly fun and relaxing. I usually make the fantasy art.  I have learned by watching other people's art. But to learn that way, it is important to know how Photoshop works and to know how to produce a certain effect.  That photo manipulation is not really difficult. But to make it neat and well done is difficult and time consuming.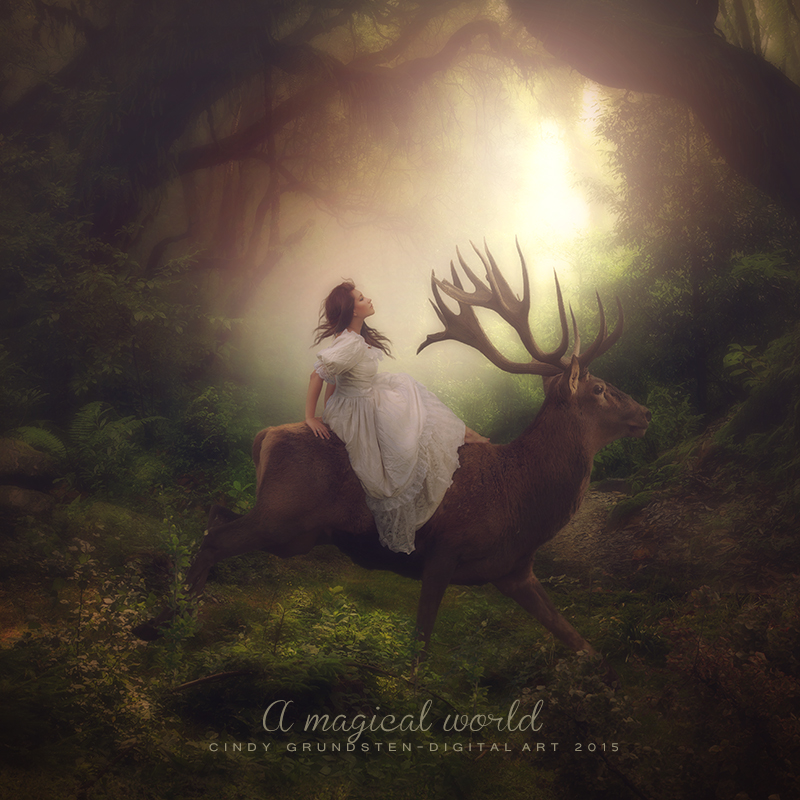 A Magical World by Cindy Grundsten
Why and how did you become an artist? 
I do not believe that one only becomes artistically inclined. I believe that you are born with it. Either you have it or not. It's not something you choose yourself. You have it inside you.
Since childhood I have created different things. I drew every free moment when I was a small child. I have created sake of clay, I've created beautiful flower decorations, I have sewn ornamental bears that I sold. I have sewn, knitted, crocheted. Yes the list is long.
So I've always had an interest in creation.
That I nowadays create digital is probably only because of the digital development.  Unless the digital world I would probably create something by hand.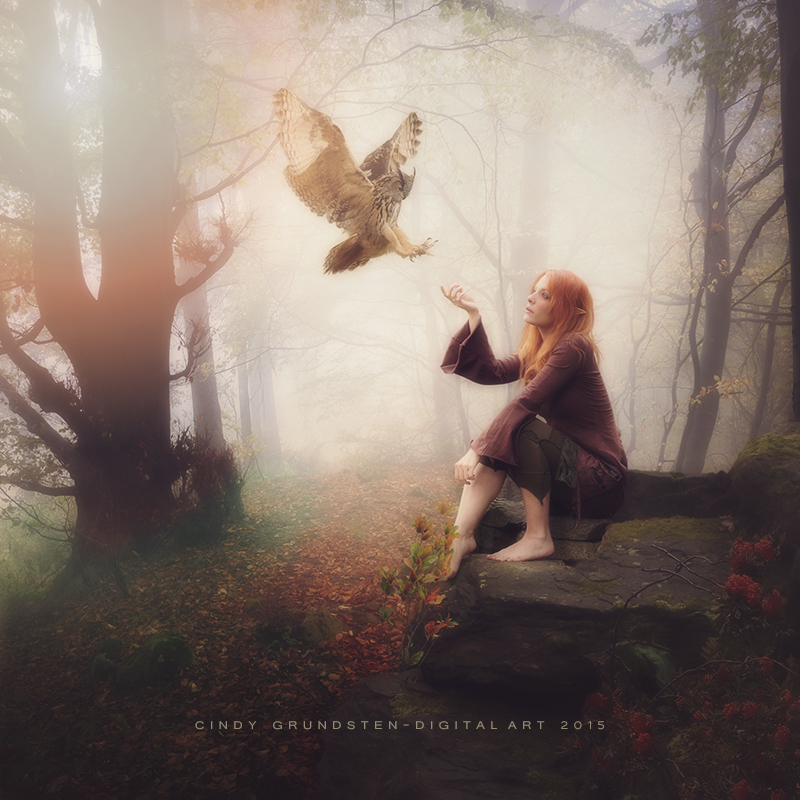 You are a digital artist.  What makes you choose digital over traditional painting?  What is the most challenging part about working digitally?
The first time I came in contact with an image editing program was 2007. Then I did not know what photo manipulation was, or how it was done.  So I started editing my photographs. I thought it was great fun and was doing it for a year.
After a year, I felt that I wanted to learn more. Then I searched on Internet and found Deviantart. For the first time I saw these amazing photo manipulations. Then I decided to learn it.  I struggled a lot to learn. The road was long, but I sat evenings and weekends, and tried to teach me different things.
Eventually, I took a course in Photoshop. And when I learned how the program worked everything became much easier.
So that's the way it is. I'm not good at painting in Photoshop. I have not given myself the time it takes to learn. But perhaps I will eventually.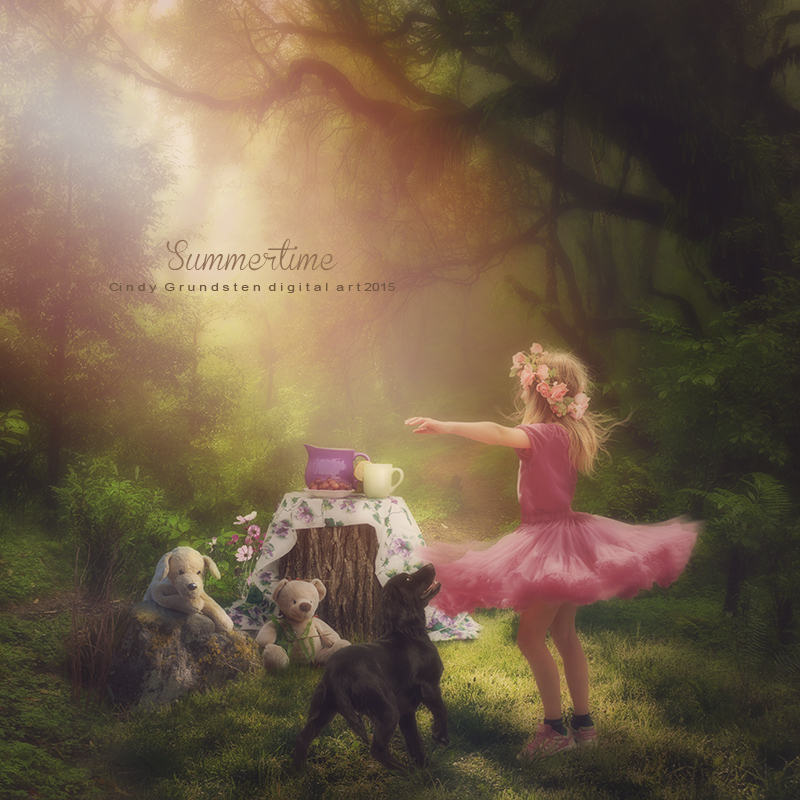 Dances in The Summer by Cindy Grundsten (Summertime Series)
Your art tells stories.  Do you imagine the stories first or do they emerge as you work on a piece?
Mostly the ideas come while I create.  If I find good stock pictures, I get excited and then it is easy to create. Sometimes it flows very smoothly.  And good ideas comes to me during the process.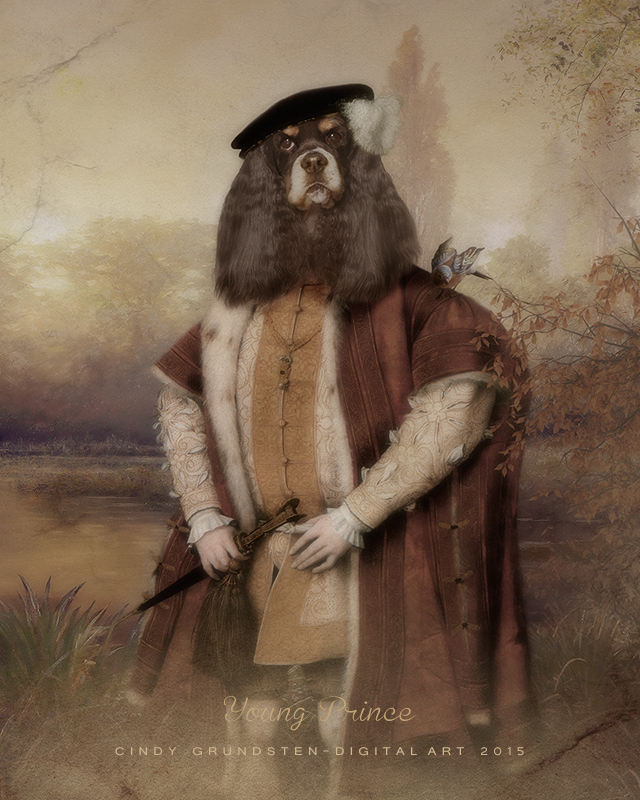 Young Prince by Cindy Grundsten
If you had to pick one favorite out of all the art you have created, which piece is it?  Why?
I've been thinking. But I do not think I have any favorite. There are some works I like more than others. But if I still have to pick out one I like the Sweet Dream series as I did in 2010.
I like the series because this work made me so happy. The workflow was amazing. And I also like the pastel colors in this work.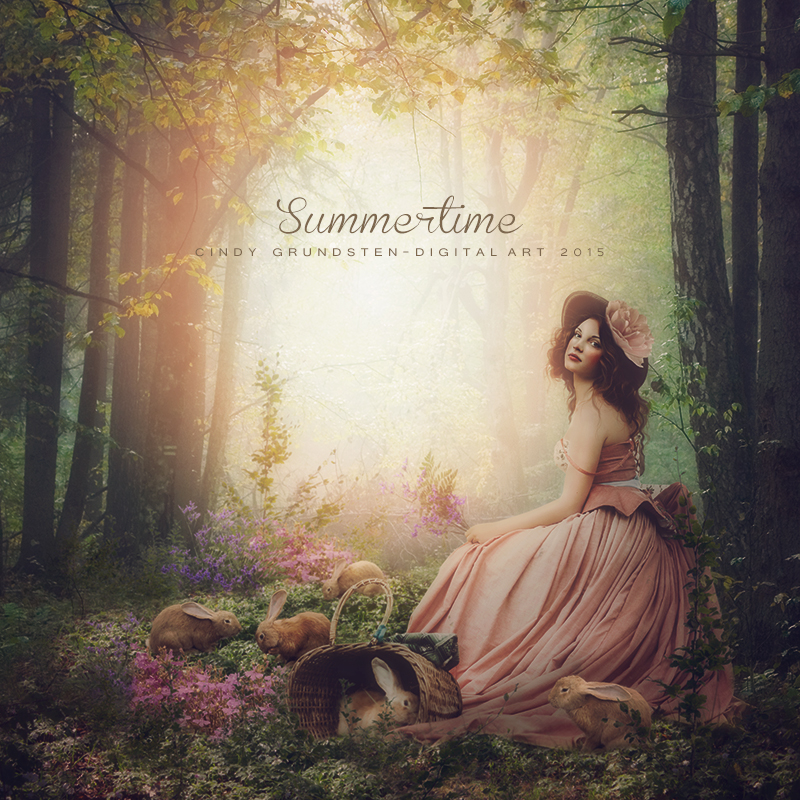 Summer Day by Cindy Grundsten (Summertime Series)
Is your art hanging or displayed in your home?  If so, where and how?  If not, why not?  What type of art (besides your own) hangs on your walls?
I have one work that I have done on the wall. It's a dog image. But my daughter and my sister has a lots more of my work on their walls.  However, I have ordered a canvas of a photograph that I took and which I like very much.  I also have other photographs I have plans to print out and hang on the wall.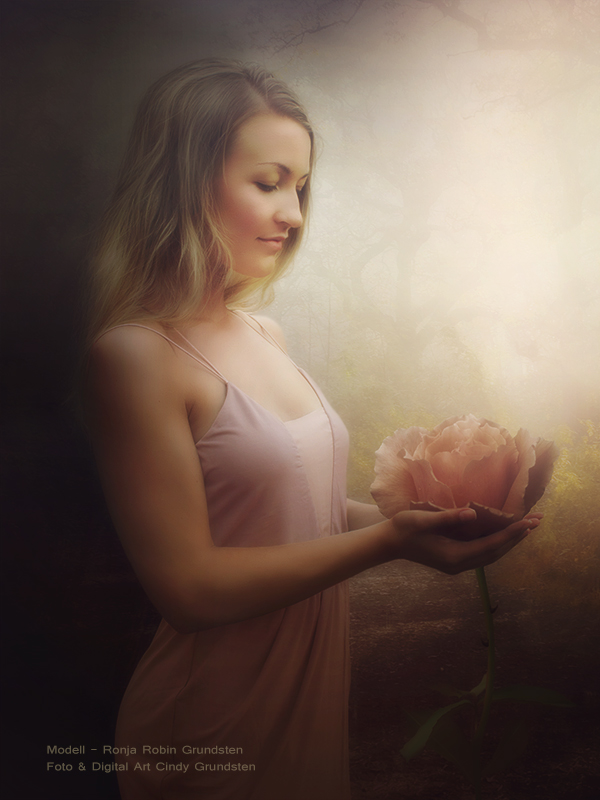 Where else in your life does your creativity emerge on a regular basis besides in your art?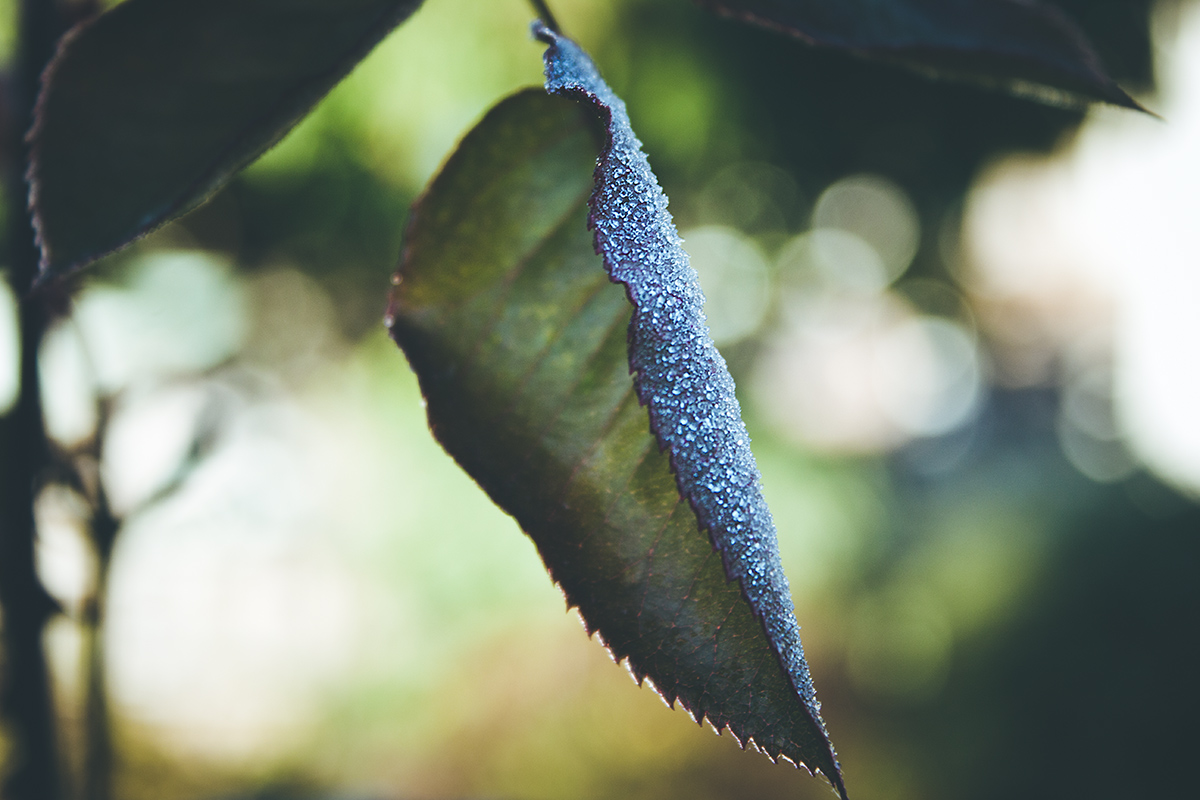 Leaf, Photography by Cindy Grundsten
Shooting photos. I love photographing the wonders of nature.  It is truly inspiring to photograph. When I take a picture of anything, that's just the way it looks at the photo moment.  The next day it might look different. Nature changes all the time, and being able to capture the moment is fantastic. And no one can have an exact picture.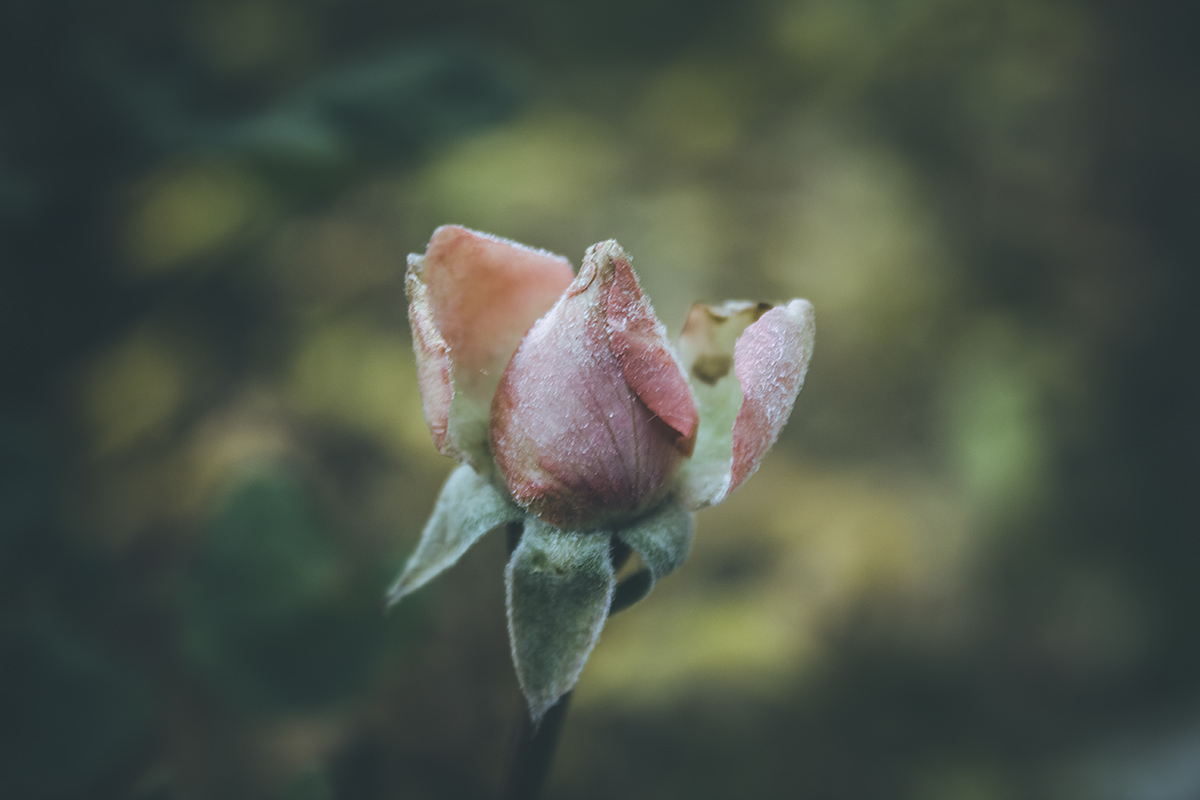 Rosebud, Photography by Cindy Grundsten
"Paint" a picture of yourself for us using 10 colorful words to describe you, the total picture.
Difficult, I had to take some help of my boyfriend.
happy, humorous, stubborn, short, thin, short-haired, blonde, warm-hearted, integrity, strong
Thank you so much Cindy, for this wonderful look into your creative process, your art and you.
"""""""""""""""""""""""
If you would like to see more of Cindy's art, you can find her at the following links:
My swedish website:  http://www.cindygrundsten.com/
My swedish /english website:  http://cindysart.weebly.com/
Deviantart:  http://cindysart.deviantart.com/
Facebook Fan Page:  https://www.facebook.com/Cindys-Art-608330879218471/?ref=hl
Fine Art America:  http://fineartamerica.com/profiles/cindy-grundsten.html