My Little Bliss List
 (Remembering the things that made me happy this week, because it's so easy to forget them.)
A short little Bliss List tonight.
The power went off today, as it tends to do when it rains here.  It's quite common.  It gave me a chance to sit down and get a few paintings started;  just the backgrounds, which will probably be painted over a few times, but they're starting points and I'm happy to know I won't have to sit down to blank pages/canvases.
I'm really enjoying Mab's Drawlloween Club.  Here's what I sketched for Prompts, 4, 5 and 6.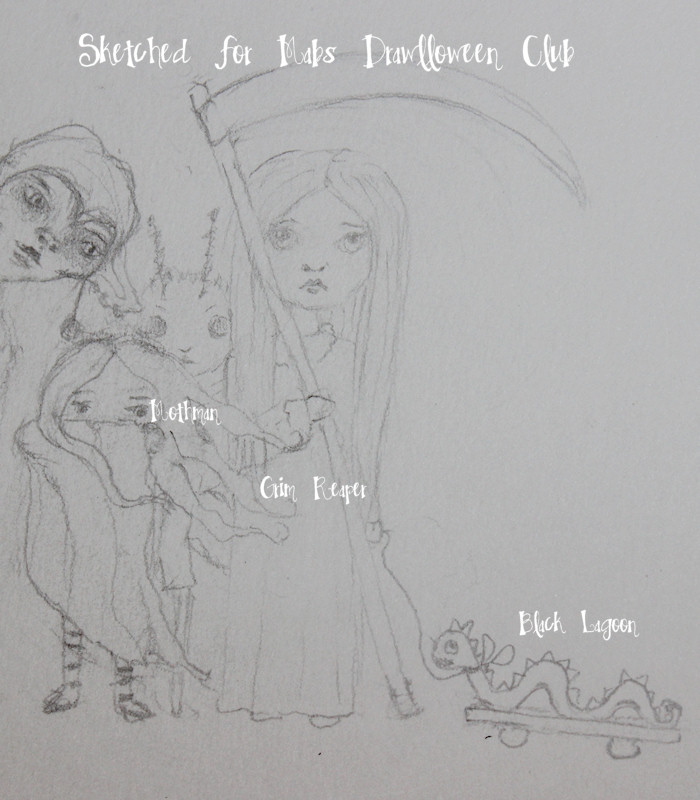 I added on to the last sketch.  I'll continue to add on until I run out of room.  Mothman is hiding in behind everyone else.  He's a little shy.  My Grim Reaper brought her Creature from The Black Lagoon toy with her.  She calls it Nessie.  (I know Nessie isn't from The Black Lagoon, but…)  I am starting to really look forward to painting this.
I've been having a lot of fun looking through all the online art courses that open up at this time of year for registration.  I am visiting all the artists' pages and loving looking through all their beautiful art.  I haven't decided which one to register for.  Taking my time, mulling it over, seeing what feels right.  I think I'll do a blog post on the ones I'm looking at.

So… What made you happy this week?  Share your bliss.