This sounded like so much fun, when I stumbled across it, mainly because I LOVE ice cream. Getting a chance to create art based upon the colors of delicious ice cream flavors was something I couldn't pass up,even if it does give me cravings and send me running to the freezer. My theory, you must experience the ice cream not only by looking at it but by tasting too in order to truly be inspired…what a great reason to eat ice cream.. if I needed a reason….. oh, yes, back to the art…
The "flavor" for Week One is Rainbow Sherbet.
I worked digitally using the programs, PS, PSP and Poser.
I made a new little Sugar Plump Fairy, named Orange Sherbet.
Sugar Plump Fairy, Orange Sherbet by Tori Beveridge
and then this ACEO fairy named Sorbet
Sorbet ACEO by Tori Beveridge
Next week's flavor is Mint Chocolate Chip… such delicious sweetness.. I can't wait to start working on some new creations.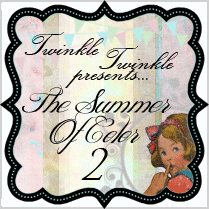 I am also linking to
Artist in Blogland's Show and Tell Saturday #28