Hello everyone!  Today I am happy to introduce you to the second of three digital mixed media artists from the tagging and scrapping community.  Meet the lovely and fabulously talented,
Claire Slack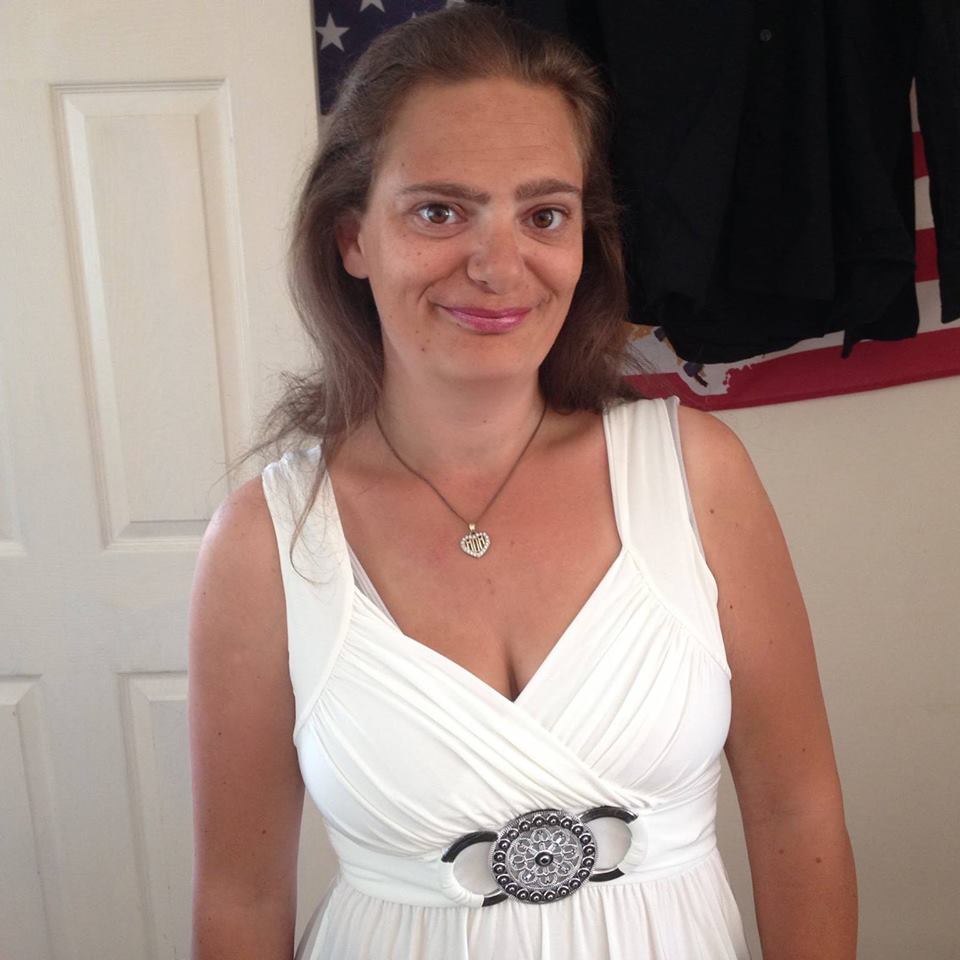 Photo of artist, Claire Slack


Who is, "Claire Slack"?  Tell us a little about yourself.

My name is Claire Slack, also known as FwTags, which means Fairywings Tags Creations.  My tagging/designer name has been shortened down over the years as people favored called me FwTags rather than the full name.
I'm a married mum of 2 beautiful children -my nearly 14 year old teenager son and my young 4 year old daughter.
I suffer from esophageal tumors one of which is very very rare and no known cure for it as of yet.Im from the UK and live in the heart of the English countryside.  I have been tagging for many years – about 12-13 years lol and showing my age now. I enjoy anything arty and crafty and when I first came across signature tags I wanted to know more about how they were created and so began my quest so to speak lol as back in the "old days" many were secretive in how their creations were done,I began a long a journey of observing and experimenting until I grew and flourished to the standard I wanted,  I'm a very quick learner and like to self teach myself where possible.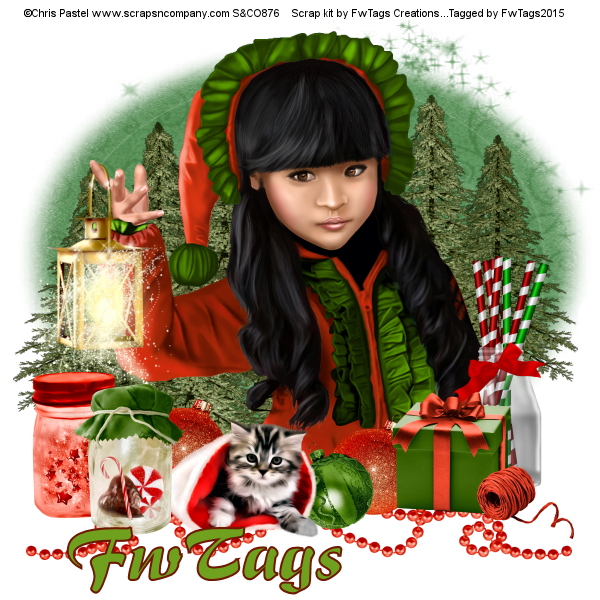 Xmas Melody, Tag by Claire Slack aka FwTags
Years later I joined facebook and found other people who liked to create tags and after working hard and improving, I joined a store Creative Team.  This is when I took an interest in digital scrap kit making and again began to research and ask questions.  I liked the idea of creating scrap kits as this is another artistic form.  I began with making small scrap kits and putting them for free on my blog. About 6 months after first making my scrap kits and getting a lot of good feed back,I used one of own scrap kits to make a creative team tag for the store I helped.  The owner really liked my scrap kit and offered me a place selling at her store.  Nearly 4 years on wards, after working hard, I now sell in several online digital stores.
I enjoy helping new designers and taggers in their journey in creating, giving them advice about copyrights and how to credit and giving them advice on how to do a certain technique in psp.  I'm very passionate in giving new designers and taggers a chance, and will help any one I can, to the best of my ability.  I mentor a few people and I'm so proud to see them flourishing and growing.  I don't do it for the credit of helping, I do it because I know what it is like to be new and not sure of what you can and can't do.  I would rather help some one new and guide them, as that is one less infringer to worry about, and I know artists and designers are getting the credit they deserve too.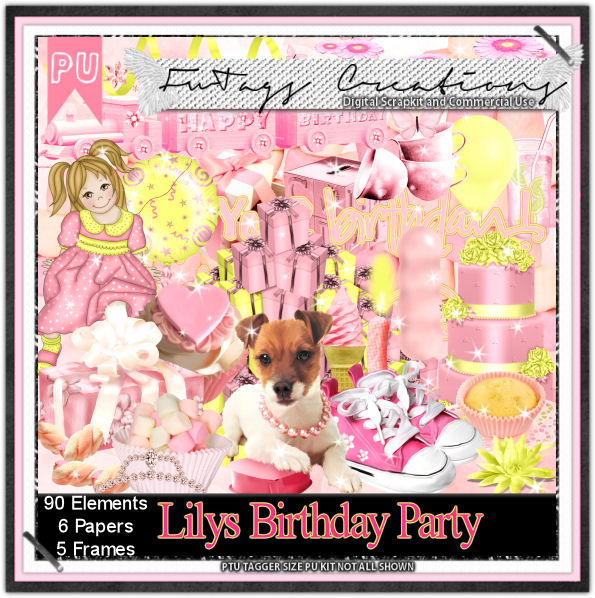 Lilys Birthday Party, Scrap kit by Claire Slack aka FwTags
Your creations are done digitally.. Please explain your craft and art to those who have never heard about 'psping' and signature tags.  What programs do you use?

Psping means using a graphics program.  A lot prefer using photoshop or paintshop pro.
Signature tags goes back to when many people used email based groups like yahoo and msn groups and they wanted a signature for their email.  These use to be little pictures similar to forum style profile pictures and then became bigger over the years to suit the needs of those who wanted to use them for other social media sites other than use for emails.  These pictures tend to range from 250×250 up to 800×800 pixels in size and usually you have your name or nickname placed on this picture with either a tube and or scrap kit used to make the picture with.
My personal choice in the program I use is Jasc Paint Shop Pro9.  Its a little outdated, but I like how it works and know most of the functions of the program,lol  When I find some thing I like I tend to stick with it rather than upgrading to some thing new.  I have tried other versions but find it confusing and prefer to stick with some thing I know and feel comfortable with.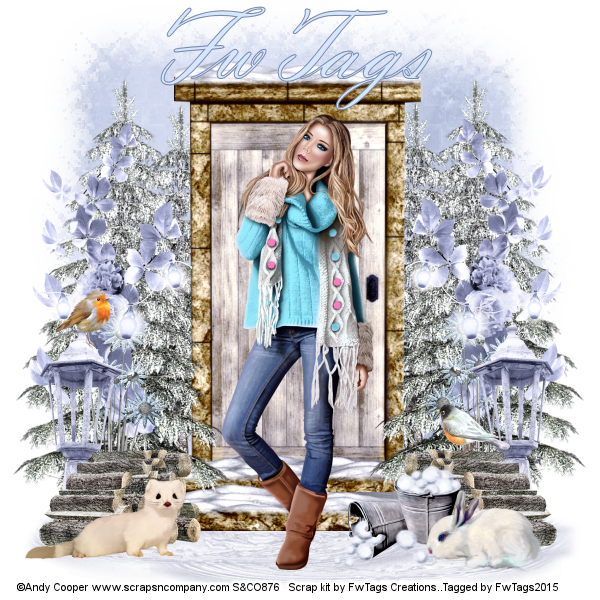 Chilly Blue, Tag by Claire Slack aka FwTags
You use many different artists' works in your creations.  They give permission and special licenses are available which enable you to do your tagging. The art is 'tubed'.  Would you please explain what this means, for those who don't know. How are artists' copyrights respected and protected?

There are many artist's around who allow their work to be used.  Some are free to use, and available to download from the artist or a site where permission has been granted by the artist. Then, you have other artist's who are known as Pay to Use,where have to buy their tubes from either their own online shop or a store who represents them and other artist's.
When you join a store that sells artists tubes you tend to be given a life time license that is unique to the store and you personally.  You then place this license number along with artist credits on to the signature tag you have created.  By using this license it proves a number of things, that you have bought the tube legally, and from what store, so if need be the store can check its records too to see if you did indeed purchase the tube legally.  This protects all concerned, both the store and the artist, and the person using the tube, and also ensures that proper credits are put on the  finished creation.  If any one goes against these rules then they can be pursued and have their license taken off them and even a ban from the store they purchased the tube from.
A tube is a picture like a female or an animal with no background.  The artist gives permission to the tuber to tube the art – meaning to remove all the background.  To remove the background means it then can be used on signature tags to create a whole new picture with its own background.
Winter Dance, Tag by Claire Slack aka FwTags
What inspires you when you create? Where do you get the ideas for your signature tags?

I enjoy creating tags for several reasons,its relaxing and love seeing the end result and like it when other people give me good feed back about my creations.  I really do get a confidence boost when the artist comments on my creation, its great to see when an artist likes your work you have done using their art.
I tend to create tags that go with the time of season it is, or if there is a holiday coming up like Halloween or Christmas.  I make make those themed tags.  I will go looking for tubes that is in that theme I want, then once I have a tube I like I will go scrap kit hunting to find a scrap kit that would suit the tube as in the colors and theme.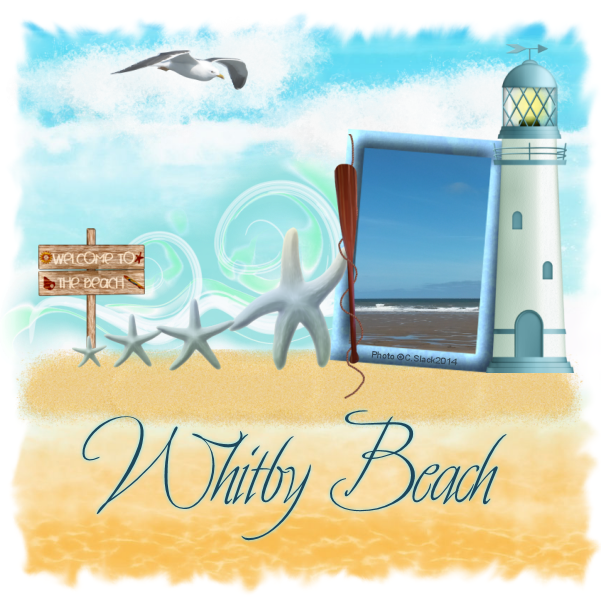 Whitby Beach, by Claire Slack aka FwTags
You also create design elements and scrap kits. What is involved in this and, again, where do you get the inspiration for them?  Could readers also use your scrap kits in digital scrapbooking?

Ooo where to begin with this one lol,  To cut a long story short, scrap kit designers can purchase commercial use packs or psp or ps scripts or psd templates from commercial use designers.  The CU packs contains various png elements in a certain color or theme.  Scripts can be installed onto your paint shop pro or photo shop and these create png elements for you too, and you can buy psd templates which is an element in layers and you re-color these layers to your own suiting.  All png elements can be re-colored to your preference as long as the CU designer allows this in their TOU file.  Some scrap kit designers like to make their own elements by either hand making it in their graphics program or by photographing an item and then tubing it.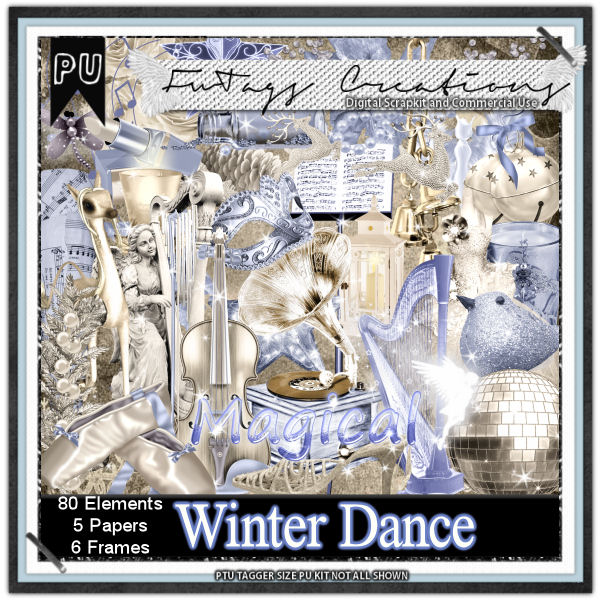 Winter Dance, Scrap kit by Claire Slack aka FwTags
I get my inspiration by, again depending on the season and if there are any up coming holidays, I look at color palettes and go CU (commercial Use) browsing and often see a CU pack that I like and go from there.  Or sometimes I will see an element or hear a saying and it will give me an idea for a scrap kit.  I love to always have some sort of animal in my scrap kits, be it a bird, mouse, butterfly, dog or cat lol, so I always look for ways I can make a scrap kit where I can place an animal in it.  Making a taggers scrap kit consists of using commercial use elements and coloring them in the color pallet you want your scrap kit in, and making sure all elements go with your theme.  A lot of thought has to go into making a scrap kit, as if you use the wrong elements things will look out of place.  All elements must flow together, both in colors and the theme and type of elements used.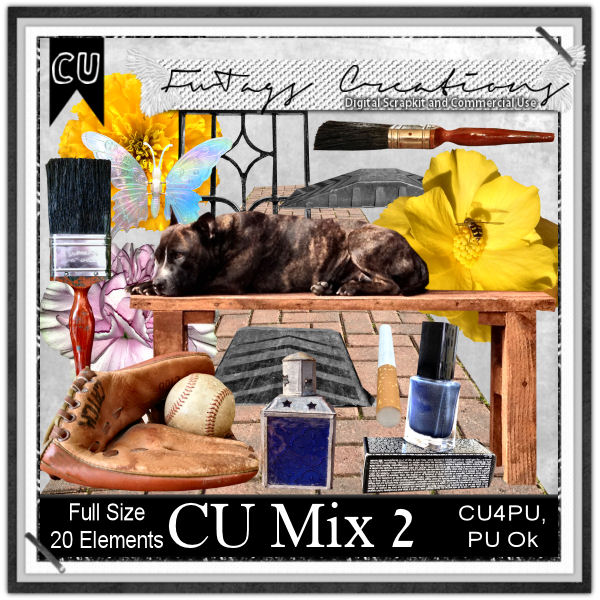 CU Mix 2, Commercial Use Scrap kit by Claire Slack aka FwTags
I also create commercial use elements by taking photographs of items I own at home and then editing them and tubing them up.  I'm very careful to abide by copyrights and logos when using real life items.
Yes my scrap kits can be used for digital scrapbooking.  I use high quality elements and save them all at 300PPI(Pixels Per Inch) and also I make my elements slightly larger than your average tagger sized elements.  I have personally made scrapbook style layouts using my own scrap kits.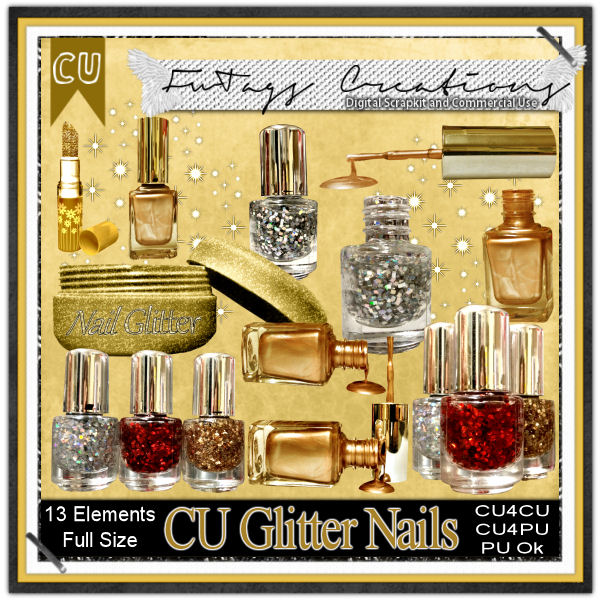 CU Glitter Nails, Commercial Use Scrap kit by Claire Slack aka FwTags
Who is/are your favorite artist(s)?  What speaks to you about them?

Wow a tough question lol, hmmm making me think now lol…
I have always loved KiwiFireStorms-aka Brian Gibbs art work I love his clean bold lines and his subject themes for his tubes,very different and love different lol.
I also like Danny Lee's tube's and a few others.   I have many favorite artists I'm growing to love and enjoy, including yourself.  There are way too many for me to pick from and name them all lol,  I'm an all rounder and love all the different styles of art work out there.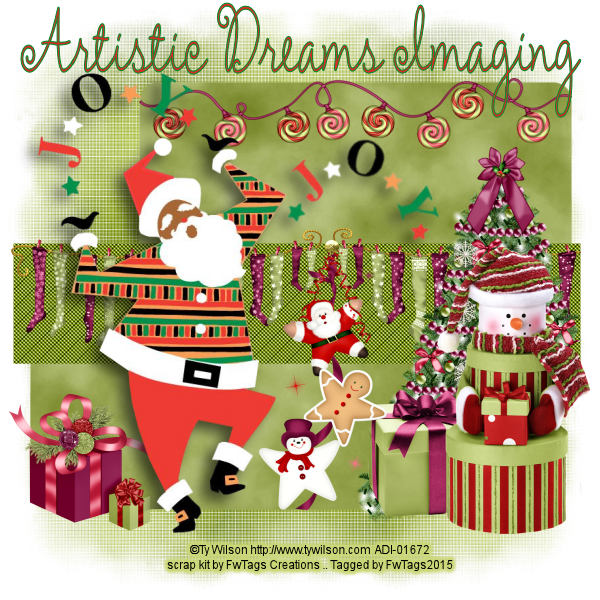 Joy Santa, Tag by Claire Slack aka FwTags
What other creative activities do you do on a regular basis?

I have always enjoyed any thing artistic, arty and crafty,creating new things.  I used to enjoy making decoupage cards but sadly my hands have become too shaky to cut out the fine bits of card.  Now a days, I still enjoy making various things from origami to painting and coloring in things to even re-vamping old garden ornaments lol.
I love taking photographs both of items I can tube, and of the beautiful countryside scenery that I'm surrounded by.
Oh and an odd one lol,when I was pregnant with my daughter I took up the art of balloon modeling and I still make balloon models for special occasions.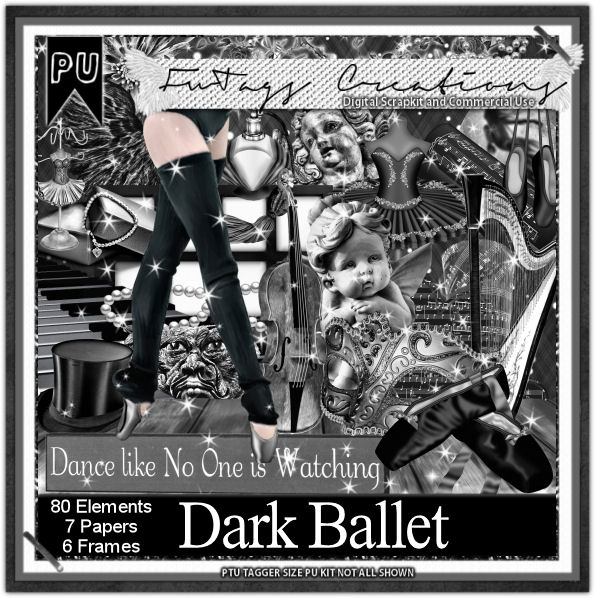 Dark Ballet, Scrap kit by Claire Slack aka FwTags
"Paint" a picture of yourself for us using 10 colorful words to describe you, the total picture.
A; hmm a tough one again lol, I'm like a rainbow or a kaleidoscope,an all rounder..but putting just that would be cheating now lol and does not paint much of a picture.
I'm pink as I love my girly stuff,a bit of black as I also like my darker stuff,
I'm ambitious, balanced, helpful, loyal, friendly, passionate, kind and caring,easy going and a team player.
Thank you so much Claire, for this wonderful look into your creative process, your art and you.
"""""""""""""""""""""""
If you would like to see more of Claire (aka FwTags)'s art, you can find her at the following links:
Blog:
fwtagscreations.blogspot.co.uk
Facebook public like page:
https://www.facebook.com/FwTagsCreations/
Facebook fan group:
https://www.facebook.com/groups/Fwtagsfangroup/
Facebook group Claire runs:
A.L.T. -Ask.Learn.Teach Trying to help the members of the tagging community do the RIGHT thing.A group to HELP and TEACH other taggers and also designers and any one in-between…about designing and being copyright compliant.
https://www.facebook.com/groups/AskLearnTeach/
Stores:
Artistic Dreams Imaging (ADI)
http://store.artisticdreamsimaging.net/en/464-fwtags-creations
Berry Applicious Store
http://berryapplicious.com/store/index.php?main_page=index&manufacturers_id=76
Scraps N Company (S&Co)
http://scrapsncompany.com/index.php?main_page=index&cPath=112_303
Sensibility Scrapping Store
http://sensibilityscrapping.com/index.php?main_page=index&manufacturers_id=63
Digi Foxs studio
http://digifoxsstudio.net/store/index.php?main_page=index&manufacturers_id=101
Scrapping Dreamz Store (SDS)
http://scrappingdreamzstore.com/store/index.php?main_page=index&cPath=154_197