It's Friday again.  You all know what that means… time for another interview with another talented artist.  I just know you are going to love this digital mixed media artist from the psp/signature tagging communitry.  Please meet the lovely
Penny Bearden aka Venomous Creations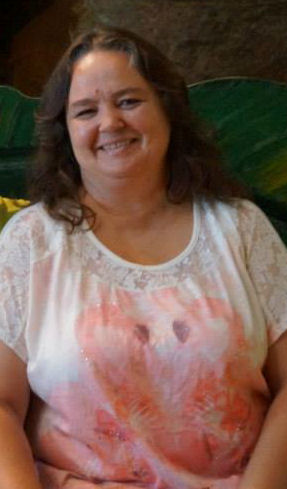 Photo of artist, Penny Bearden aka Venomous Creations

Who is, "Venomous Creations" aka Penny Bearden?
Hi there!! I am Penny, known in the psp community as penny¢ and Venomous Creations. I hale from the great state of Texas and have been here pretty much all my life. Been married to my best buddy James for almost 32 years, have 3 kiddos and 12 Grands ranging in age from 6 months – 15 yrs.
I got into psp in 2004 when I got my first computer (I'm slow with progress LOL) and kept seeing all those neat little pictures everyone was sharing . My niece told me the name of the program used to make them, I bought PSP9, and rest is history!! LOL Still love it as much today as I did when I first started. Now I bounce between PSPX and PSP16, although I do like PSPX a lot better.
When we are not managing our trucking company, we love to travel, seeing the sites, museums, etc…of different places. Or even re-visiting ones we've seen before. Camping, fishing, ATV riding are also a few of our favorite past times as well as attending the Grands sporting events or just hanging around the house with them.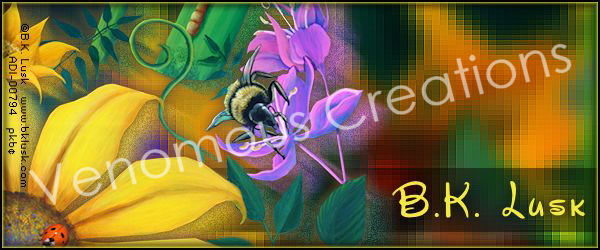 Spring Fling tag by Venomous Creations aka Penny Bearden
Your creations are done digitally… Please explain your craft and art to those who have never heard about 'psping' and signature tags.

     PSP is a digital program which allows you to either manipulate images or create your own. You can touch up photos, add some bling bling to them, put some wording on it, just about whatever you can think of you can do!! Want to put a mustache on your annoying brother? Open a photo of him in psp and have at it!! LOL I make sig tags with my psp. Sig tags are images we make by combining more than one element or effect and making a whole new picture with them. Then we put our name on it and use it to sign email, posts in groups/forums, etc…
What programs do you use?  I currently use Paint Shop ProX and PSP16 as well as Animation Shop.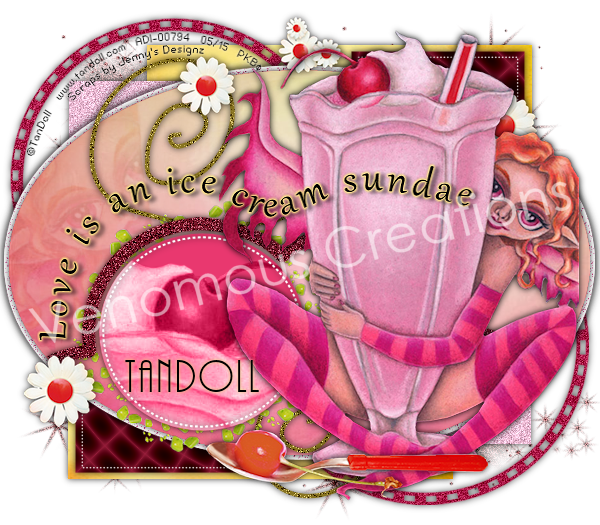 Love is… tag by Venomous Creations aka Penny Bearden
I have noticed that many of the tutorials you write do not incorporate scrap kits, but do make use of plug ins.  Would you please explain what plug ins are to those who may not know.
Plug Ins, also known as filters, are what we use to add effects to our tags. They do a variety of things and each one does something different. Like that lightening bouncing around in a picture like it's real? That's done with a plug in. Love how that image looks like old cloth, or how those swirls are just right? That's also done with filters. There a wide variety to choose from too!!
Why do you choose plug ins over (or in conjunction) with scrap kits for one of your projects?
I prefer plug ins over scrap kits because it is more challenging. With scrap kits it's just copy and paste. The hardest part of that is deciding which kit to use. But with filters, you have to try them out and see if you like the effect or not. Filters will let you get something you have pictured in your mind onto the canvas in front of you instead of just copy and paste some one else's idea of what should be there.
Don't get me wrong, I do work with scrap kits too, just not much. Sometimes you have a tube that just calls out to be used with a scrap kit or you want to set a certain mood with your image so you turn to a scrap kit for that. I mainly use scrap kits to design layouts featuring parts of the kits that highlight a certain photo I want to work with.
And I do have great respect for most kit makers. I have made kits myself and know first hand the time and effort it takes to get it just right. Not my cup of tea but hey, there's tons out there so I don't have to, LOL.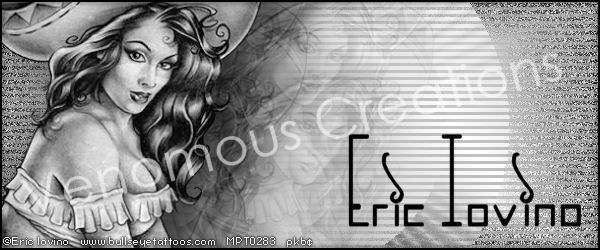 Sexy Senorita tag by Venomous Creations aka Penny Bearden
What inspires you when you create?

      My inspiration comes from the tube/image I am working with, as well as what's going on around me. For instance, if it's a fun, cute tube my tags turn out bright and kinda wild at times, LOL. Darker, more serious tubes usually get more subtly tones and content to the tags. Plus any themes play effect too. I love the Last Word threads in groups, so I make a lot of those with my off kilter, kinda odd, funny tubes.
 Where do you get the ideas for your signature tags and Facebook headers?
Again, it is the tube/image that gives me the ideas. When I look at a tube/image, I picture what it's saying to me right then. Got a girl giving a smart sassy look? It's going to be a fun, sassy tag. The world events, holidays, real life happenings play a big part also. I made the "Pray for Paris" Facebook headers to honor and support the victims of the bombings there. Holidays get a lot of attention too. It's really fun to make tags for Halloween and Christmas, although I have a couple Thanksgiving tubes that make me smile when I see them and get used quite a bit.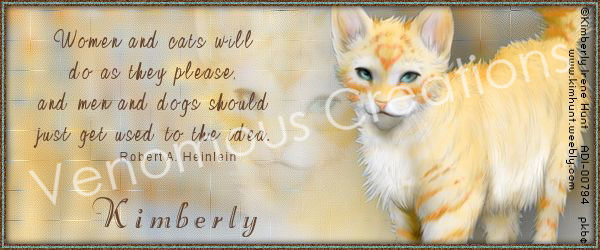 Women and Cats tag by Venomous Creations aka Penny Bearden
What made you decide to do tutorials and show others how to recreate the tags, etc. that you design?

    When I started psp, I was following tutorials. However, I was also in a group that did random, off the wall challenges. They would give us a filter name, font name, theme, etc…and we had to make a tag with all the required elements. Or sometimes I just didn't feel like scanning the web looking for a tutorial that would catch my eye, so I would sit down and just tag a tube. My daughter started asking me how I did certain things, so I wrote it down for her…filter settings, names, etc…Then a couple years ago I was invited to join the Creative Team for a couple stores and one of the requirements was to have a web site and write tutorials. So I sat down, opened Blogger, and got busy.
Who is/are your favorite artist(s)?
OMG that's a tough one. I really don't have "a" favorite because they all have something that I like. When I first started in psp, Keith Garvey and Rion Vernon were the most used. Now there is a long list, just depends on the tag I am making. Again, the choices I make as to whose art to use depends on what I am going to create and what catches my eye at the moment. Something I didn't like last week may be an eye catcher this week.
What speaks to you about them?

    I loved the expressions they had. You could look at one of their tubes and almost hear them saying something just by their expressions.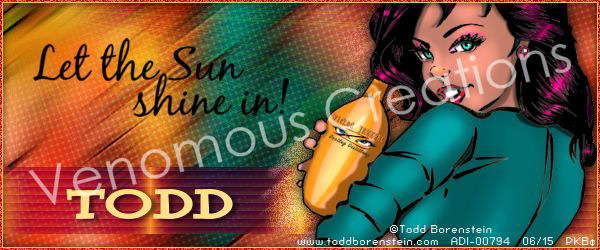 Sunshine tag by Venomous Creations aka Penny Bearden
What other creative activities do you do on a regular basis?

       I love to do various crafts…sew, crochet, knit, ceramics, needlepoint, paint with Tri Chem, cooking, macramé, reading….Not many things I haven't tried over the years. I don't have much free time since joining the world of the internet, but I do still read a lot and try to find time for painting and crocheting. At the moment I am working on crocheted baby booties for my daughter-in-law's sister and friend.
"Paint" a picture of yourself for us using 10 colorful words to describe you, the total picture.

     Hmmm, I always have a hard time describing  myself.
Short
Honest
Psychodelic (I'm kinda fun psycho at times)
Loving
Funny
Friendly
Creative
Focused
Active
Humble
Thank you so much Penny, for this wonderful look into your creative process, your art and you.
"""""""""""""""""""""""
If you would like to see more of Penny aka Venomous Creation's art, you can find her at the following links: